History
Since its inception, Martin Luther University College (formerly Waterloo Lutheran Seminary) has been a leader with long-term vision. Starting as a seminary with four students in 1911, its community grew to found Wilfrid Laurier University, and was instrumental in the establishment of the University of Waterloo. It is a wonderful shared history, indeed!
Milestones
1911 — The Evangelical Lutheran Theological Seminary of Canada opens in Waterloo, Ont., on Thanksgiving Day, Oct. 30, 1911. The school, established by southern Ontario Lutherans, is designed to form pastors for Lutheran congregations across eastern Canada. The seminary opens with four students.
1913 — In the province's act to incorporate the school, the institution's name was Evangelical Lutheran Seminary of Canada.
1914 — Waterloo College School (a high school) is founded and operates alongside the seminary.
1924 — The school launches a Faculty of Arts for post-secondary education which takes the name Waterloo College.
1925 — Waterloo College affiliates with the University of Western Ontario, in London. Students receive their degrees from Western.
1955 — Gerald Hagey, president of Waterloo College, obtains approval from the Evangelical Lutheran Synod of Canada to spearhead the creation of the non-denominational "Waterloo College and Associate Faculties" that would affiliate with Waterloo College and provide science and engineering programs. Several years later, the Associate Faculties co-founds the University of Waterloo, with Hagey serving as the university's first president.
1960 — Following an act of the Ontario legislature the previous year, Waterloo College becomes Waterloo Lutheran University.
1973 — Waterloo Lutheran University becomes public and adopts the name Wilfrid Laurier University. In effect, Waterloo Lutheran University continues under the name of Waterloo Lutheran Seminary. While most of the university campus becomes Laurier's Waterloo campus, three acres on the corner of Albert Street and Bricker Avenue remain seminary property. The school is officially federated with Laurier.
2015 — As our school is constantly reforming, Waterloo Lutheran Seminary's Board of Governors approves changing the school's name to Martin Luther University College as a way of reflecting the school and community we have become.
2018 — Waterloo Lutheran Seminary begins operating as Martin Luther University College.
Check Laurier Archives online for information, photos and more.
So, Who Was Martin Luther, Anyway?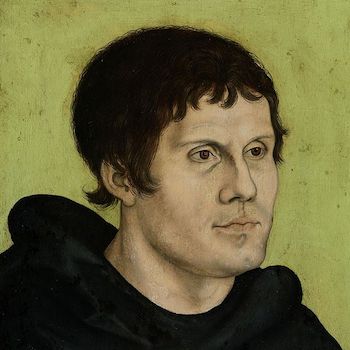 Martin Luther was a Roman Catholic monk who kicked off the German Reformation in 1517 when, according to tradition (which scholars continue to debate), he nailed 95 theses to a church door in Wittenburg, Germany. The theses were Luther's suggestion for reforming church doctrine.
Luther's reforms not only changed the church, they rippled throughout western civilization and continue to benefit us here and now. For example, his reforms fostered individual rights and promoted widespread public education.