Newly elected councillor Chantal Huinink (MDiv '18) set to make the Region of Waterloo more accessible
Chantal Huinink, a 2018 Martin Luther University College and Wilfrid Laurier University graduate with a Masters of Divinity & Masters of Social Work, was elected as a Councillor for the Region of Waterloo in fall of 2022.
With a passion to advocate for issues that are meaningful to her, like sustainability and accessible services, Huinink knew that by being elected she could do a lot of good for others as well. This is the mindset that set the course for her campaign and helped her become elected to Council.
A large part of Huinink's campaign focused on public engagement, including reducing poverty and homelessness and working towards sustainable, accessible and expanded public transit.
"My platform was rooted in my values, with a social emphasis and spiritual motivation that helped guide me along throughout the process and also helps me stay true to my intentions today."
Huinink expressed that her journey in politics has a lot to do with her lived experiences, along with some encouragement from others.
"A colleague I met through a practicum placement while at Luther and Laurier encouraged me to run for Council, knowing I have a social work background and that my life experience is diverse," said Chantal. "I was told that I ask good questions and that meant something to me."
She had often thought about branching into politics in her future, but the more Huinink learned of the services and priorities of the Region, the more it occurred to her that now was the right time to act.
"Things like transit, sustainability and community resources are all largely advocated by the Region, and they are also aspects of society I advocate for in my personal life," explained Huinink. "It made sense to me that if I'm going to do this for myself, why not try to do it on a broader level and impact more people."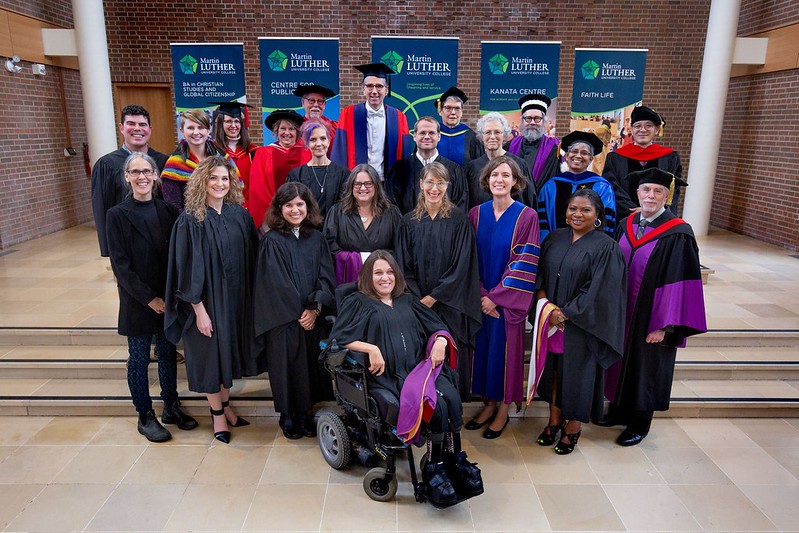 As for the election process, Huinink stated that it was an interesting journey as the campaign progressed.
"Initially, people had iterated that I was going to be fighting barriers like ableism, so I went in knowing that there were a lot of obstacles. Going door-to-door isn't something that I can easily do in my wheelchair."
As she made herself accessible in different ways, like attending events and doing interviews, the support began to come.
Other individuals running for mayor and city council expressed interest in helping Huinink get the word out by bringing her materials along with them while they campaigned.
"I think that is a real testament to the fact that politics doesn't need to be cutthroat and that it can be collaborative," said Huinink.
She expressed gratitude for the support she received to be elected and what that meant for the local community.
"There's been a lot of excitement because I'm the first woman living with a visible disability to be elected to Region of Waterloo Council." Huinink said. "I think it's important to celebrate in terms of a desire to honour diverse experiences at all levels of our community, but also being a capable Council member who cares about the service I provide."
Mary (Joy) Philip, assistant principal professor, taught Huinink while in the MDiv program at Luther, and notes her interactions with Huinink also carried meaning through the lessons she learned from their relationship as well.
"She fights for what she thinks is right and is confident to have her voice heard," said Philip. "She taught us to look at what was perceived as a disability in a different light and enabled others to do the same and have the confidence to share their voices too."
Huinink says there is still a way to go to make Waterloo Region the most accessible region in the country. She is excited to be taking on the task and feels grateful for what it means to her to be elected as a Councillor.