Inshallah
Inshallah is a community choir of more than 130 voices, gathering from across campus and throughout Waterloo Region, singing songs of praise and prayer, of joy and lament, from around the world. It's a fun and welcoming space where multifaith and multicultural diversity is explored through music at rehearsals, public gatherings and workshops.
Martin Luther University College (formerly Waterloo Lutheran Seminary) funds Inshallah, which falls under the leadership of Debbie Lou Ludolph, the director of the school's Kanata Centre for Worship and Global Song, with the help of a volunteer advisory committee.
New Voices Welcome
New members are welcome for the Fall 2021 term!
There are no auditions to join Inshallah Tuesdays at Five.

The online gatherings will include singing lessons, mindful movement, song and prayer, lecture and the opportunity to participate in a virtual choir.

Each singer contributes $25 per term to cover resources for Inshallah and support our projects. For more information, contact Kathryn at admin@inshallah.ca
Rehearsals
The schedule and protocols for Inshallah choir rehearsals during 2020 are currently under development.
In particular, we focus on songs from the global south, but also sing Canadian hymns and new songs that are written for our group in an effort to define our Canadian contribution to global song. We have a team of instrumentalists who accompany and sing with Inshallah.
Songbook and Other Resources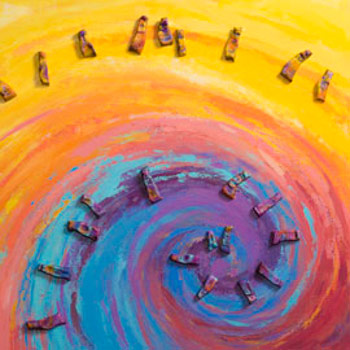 Inshallah's Sing the Circle Wide songbook is available online from Parasource, also from Luther's main office and by contacting admin@inshallah.ca
Feel free to access Sing the Circle Wide's:
Inshallah's recordings are available from Luther's main office and by contacting admin@inshallah.ca CDs include:
Singing Peace with Inshallah (2014)
Inshallah Sings 2 (2012)
Songs and Prayers to Share is a booklet that collects some of the songs that have been generated through the Inshallah experience and the Kanata Centre. To request a PDF copy of this music resource, contact admin@inshallah.ca 
Accessibilities
Our goal is to make all activities fully accessible to members. Rehearsal space is wheelchair accessible, and we make every effort to ensure performance venues are wheelchair accessible.
Out of consideration for those who have scent allergies or sensitivities, we ask members to refrain from using scented products during rehearsals, retreats and concerts.
If you have allergies, please adjust your seating to accommodate your needs. Let us know if there is any other way to assist you.
Photos and Videos
View photo albums and select videos by clicking on the links below. View all the community choir's videos in the Inshallah playlist on YouTube. 
Inshallah Kids and Families
Inshallah Kids and Families is a multifaith, multicultural choir imagined from the Inshallah adult community choir, and initiated to provide an opportunity for interested children and their families to sing and learn together. Formed in the fall of 2016, the group is under the direction and collaboration of Inshallah members Dawud Wharnsby, Ruth Hunsberger, and Ruth-Anne Hamel.
All are welcome! Details on how to join in fall 2019 are being confirmed. For more information, please contact Ruth Anne Hamel at rahamel64@gmail.com.